About Forest Ridge Kennel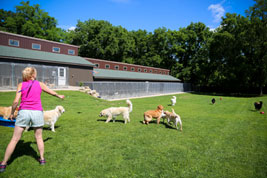 Forest Ridge Kennel LLC is a family owned business with siblings Kristi, Karen and Rob at the helm. We were raised with a deep love and respect for animals and each of us has welcomed many furry family members into our lives over the years. Each one of us decided to pursue an education at the UW-Madison and found the area too rich and inviting to leave.
We consider ourselves to be the people that belong to various pets. To that end, we have dedicated a considerable amount of our lives to serving our pets and others. We purchased the property in 1999 and went about rebuilding the kennel and turning Forest Ridge Kennel into a luxury destination for pets that truly focuses on their most important needs.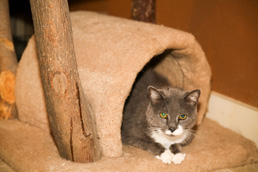 Our kennel is set on 6.5 acres, away from the melee of city life and nestled into protected nature areas. Dog runs feature indoor and outdoor areas and they are climate controlled for the wide range of weather that Wisconsin experiences. Your dogs have access to the runs all day, weather permitting. We feel it's important to give your dog a healthy dose of outdoor play time and let them into the big yard two times a day for exercise and play. We will also be happy to take them for a walk on one of the fantastic trails that surround Forest Ridge if you'd like to schedule it.
We offer private or semi-private pet vacations, in case you'd like to have your two pets stay together. In their rooms you are invited to bring any favorite bedding or toys they have, with some restrictions.
We know cats are an interesting sort so we've designed the cat rooms to feature a wide variety of stimuli and several cozy places for them to curl up for a nap.
At Forest Ridge Kennel we also offer grooming services. For you convenience you can schedule grooming to occur during boarding or at a separate appointment.