Forest Ridge Kennel Boarding and Activity Options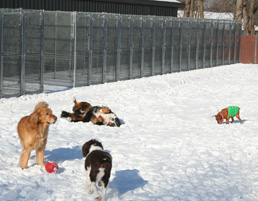 Rates
Dogs $29.00 daily
Cats $18.00 daily
Small Animals Call for information
Sharing discount: 25% off boarding for second pet in same enclosure.

Activities
Nature walks
Dogs are walked on leash by our staff along a scenic scented woodland trail.
$5 per session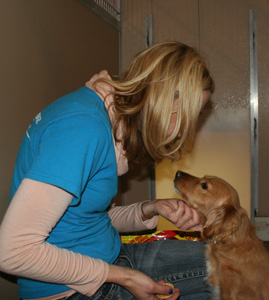 Playtime
Compatible dogs play in small groups in one of our large outside play yards with toys, ropes, Frisbees, and endless fun supervised by our staff. Non-compatible dogs can sign up for one on one playtime with our staff.
$4 per session
Treat Breaks
A varying menu of gourmet treats including pigs ears, bakery biscuits, cookies and Frosty Paws (seasonal) delivered with one on one attention.
$3 each
Kennel Baths
Complimentary kennel bath with 7 nights or greater stay. Available to schedule during shorter stays. Price varies, please inquire at check in.
Rates effective 1/1/22

Boarding includes Iams pet food, daily let outs (dogs to play yard, cats separately in cat room), and administration of any required medication. You may bring your own food. Please pack it in a plastic bag or a plastic container. Medicine should be labeled with the pet's first and last name, dosage and dosing frequency. You may bring your own bedding if you'd like your pet to have bedding in their kennel. Please only bring beds that are machine-washable.
Billing policies: Pets are charged starting on the day they check in. Additional charges for the next day begin at noon. If you pick your pet up before noon you will not be charged for an additional day, but if pickup isn't until afternoon there will be an added day charged. Payment is due upon checkout. (Prices are subject to change.)
Weekend Boarding: There is a two day charge for all pets dropped off on Saturdays. This charge covers their stay from Saturday up to noon on Monday. While you are welcome to get your pet during our Sunday pick up time, between 4-5pm, for the exact same rate, you can leave your pet with us and pick him or her up on Monday before noon. Feel free to take advantage of that extra time to prepare for your pet's return.
*We cannot accommodate late and early pickups. We ask that our customers please stick to scheduled pick up times as our schedule is vital to the health and well-being of all of our pet-guests. Thank you in advance for your understanding and cooperation.
Payment types accepted: Cash, Check, Visa, MasterCard, Discover, American Express
Vaccination Policy: Proof of vaccination (from a veterinarian) is required at check in.
Dogs: Rabies, Distemper Combo (DHLLP), and Bordetella (Kennel Cough)
Cats: Rabies, Distemper Combo

Recommended vaccinations/treatments:
Dogs: Flea and Tick prevention (Frontline, Sentinel, etc), Heartworm preventative
Cats: Flea and Tick prevention
Please call with any questions that you have regarding required vaccinations or other health concerns.